Patients
Please Note:
All patients coming to ViaMedica for diagnostic testing must be referred by a physician.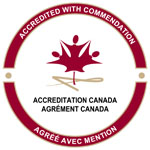 Patient Forms
For your convenience, we have the following forms available for download. Bringing the completed forms on the day of your visit will ensure a quicker registration time. If you have any questions please call our reception desk at: 514-626-5888.
Patient Visit Check List
Referral from your doctor
Bring the completed new patient forms or arrive 15 minutes prior to appointment time for registration.
Bring your Medicare card or other form of photo identification.
Bring any previous diagnostic films, CD's or reports (X-rays, Ultrasound, CT, or MRI scans).
Check with one of our receptionists, whether you can eat, drink and take medications prior to your exam.
For workers' compensation claims, a prior authorization is required; please notify the receptionist prior to booking.
Please inform your physician if you have experienced claustrophobia in the past so medication can be prescribed prior to your appointment.
If 65 years of age and older bring your most recent blood test results (within the last 3 months) only if you are having contrast dye injected, have renal failure or diabetes.
If 65 years of age and older bring your medication list (including over the counter and herbal medications).
Notify us if you are or may be pregnant.
For preparation instructions, click here