Travel Vaccines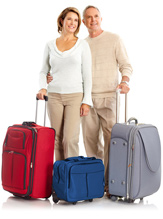 Our nurses receive continuously updated information from The Public Health Agency of Canada on the constantly changing health situations around the world in order to provide patients with the correct information and precautions required for their travel destination. Travel Vaccines are offered Monday to Friday 7am to 3pm. Please feel free to call with any travel-related questions you may have.
Our nurses can provide clients with printed country detailed travel vaccine information such as:
Recommended advice, depending on the travel destination
Canadian embassy coordinates for each country
Country Report (risk areas for malaria, hepatitis, and other infectious diseases)
Places of Interest Report (Matchu Pitchu, Kilimanjaro and others)
Medical resources by country (hospitals and urgent care centers)
HIV/AIDS : Country requirements
If you are planning to travel outside of Canada, you may require vaccination, depending on your travel destination, the length of your stay and whether or not your routine immunizations are up-to-date. Since it can take several weeks for an immunization to protect you against a disease, have a consultation with us 6 to 8 weeks before your trip in order to allow enough time for the vaccines to take effect.
To schedule an appointment for a travel vaccine, please contact us.
Why should I get Travel Vaccines?
Travel vaccines are among the most important and effective ways to prevent travel-related infections. Simple precautions and good preparation can minimize the risk of contracting diseases inherent to remote tourist areas all around the globe.
Travelers may be at risk for the following serious infectious diseases - all of which are preventable by vaccine:
Cholera
Hepatitis A & B
Influenza
Japanese Encephalitis
Meningitis
Pneumonia
Typhoid Fever
Travel vaccines can be given: Orally, intramuscularly or subcutaneously depending on the vaccine.
Public Health Agency of Canada
Travel vaccines offered at ViaMedica
Chickenpox
Cholera
Diptheria
Hepatitis A
Hepatitis A+B (TwinRix)
Hepatitis B
Influenza
Japanese Encephalitis
Measles
Meningococcal Group - A,C,Y,W135 (Travel)
Meningococcal Group C Conjugate
Mumps
Pertussis
Pneumococcal Conjugate Vaccine
Pneumococcal Polysaccharide Vaccine
Polio
Rubella
Tetanus
Typhoid Fever
Typhoid Fever Oral