Nursing Services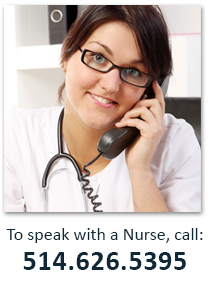 Blood Tests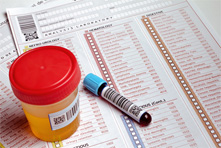 All blood tests at ViaMedica are done in a private exam room to ensure the personal privacy of each patient.
All laboratory specimens are sent to Dynacare, an ISO-certified laboratory that offers a wide array of analysis services: blood testing, pregnancy tests, STD (sexually transmitted disease) and HIV testing, urine analysis, etc.
Blood Test FAQ's
Do I need an appointment for a blood test?
No appointment is necessary, our phlebotomists and nurses are available for blood drawing Monday to Friday 7:30am to 3pm.
Why are blood tests ordered?
One of the ways for the early detection of diseases such as high cholesterol, diabetes and prostate cancer is done through routine blood testing. The sooner detected, the sooner an effective treatment can be implemented.
How do I get my blood test results, when will my physician receive them?
Most routine test results are reported within 24 hours. Some tests require more time for processing or to allow for the growth of microorganisms. The results are sent directly to your physician by fax.
Your physician will discuss the results with you at your next scheduled appointment. To obtain a copy of your results, please contact your physician.
Are my test results confidential?
All test results are highly confidential. ViaMedica has strict guidelines to ensure that only the referring physician receives your results. Results are forwarded to another physician only by the patient's request or that of the referring physician.
For which tests do I have to fast and for how long? Can I have water? Can I take my medication?
Yes. Water is permitted for all tests. Medications can be taken except when testing the medication level (ex: Digoxin, Lithium). It is recommended that you fast (no food, including chewing gum, or alcohol) for a minimum of 12 hours prior to specimen collection for the following tests:
Apolipoprotein A + B
Calcium
Cholesterol Total, HDL, LDL
CRP High Sensitivity
Folates
Glucose
Glucose PC 75g 2hr, 3hr GTT
Homocysteine
Iron, TIBC, UIBC % saturation
Lactose Tolerance
Phosphorus
Protein Electrophoresis
Triglycerides
Anemia Profile
If you have any questions about the procedure please contact us.
IMPORTANT:
Please remember to bring the referral document from your physician when you come in for your appointment.