Imaging Services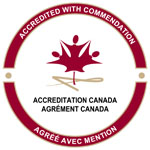 MRI FAQs
Who interprets the results and how do I get them?
A radiologist, a physician specifically trained to supervise and interpret radiology examinations, will analyze the images and send a signed report to your primary care or referring physician, who will share the results with you.
Am I exposed to radiation when having an MRI?
No, it's a strong magnetic field about 30 000x stronger than the magnetic field of the earth. It's only dangerous to have an MRI examination if you are wearing a metallic device.
Is the exam painful?
No, but you are going to hear a lot of noise like road construction. The technologist is going to give you headphones to reduce the noise. If you would like, you can listen to music or if you prefer you can ask for earplugs.
How long is the exam?
It varies regarding the part of the body that is scanned. Normally, the exam takes between 20 and 45 minutes.
Do I need special preparation before having an MRI?
You may be asked to wear a gown during the exam or you may be allowed to wear your own clothing if it is loose-fitting and has no metal fasteners. You will be able to leave your belongings in a locker.
For preparation instructions, click here
What can I do to prepare myself for an MRI if I think I am claustrophobic?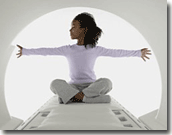 We encourage you to come visit the clinic and see our machine. Our machine is state of the art, with a large opening and a short bore. It looks like a big donut. We have the possibility to do most exams feet first so your head doesn't go in.
The day of your exam someone can accompany you and can go in the room with you during the examination (after filling out a safety questionnaire).
You can listen to music during the procedure to help you to relax. We also have special glasses to see outside the donut in case your head is inside or we have blinds to cover your eyes.
Otherwise you can ask your physician to prescribe you a sedative that you can take before your exam. If you take a sedative, you are not allowed to drive. Please make the necessary arrangements in order to have a safe return.