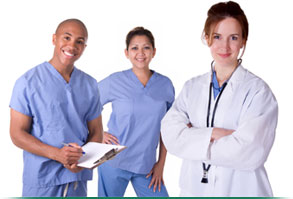 Quality
Quality is a critical aspect of value in medical diagnostic testing.
At ViaMedica quality can be seen in what we do for each patient every day, by ensuring: patient safety and privacy; service measures (speed and access); physician accuracy and expertise; staff training and performance; technology and equipment quality and ongoing quality assurance; and patient satisfaction.
Our nurses and technologists are highly trained and board-certified. They play a crucial role in helping each patient feel safe, comfortable and confident during their procedure.
To ensure accuracy and safety for each patient, our highly skilled staff has defined a clear set of diagnostic testing protocols based on our services and equipment.
Radiologists associated with ViaMedica have exceptional expertise in spine, body, neurological and musculoskeletal imaging, as well as diagnostic injections.
ViaMedica offers fast turnarounds on reports and images to get referring physicians the information they need to treat patients quickly.